This Chilean Corn, Chicken, and Beef pie, called Pastel De Choclo, also features olives, raisins, and boiled eggs. A perfect comforting and filling dinner!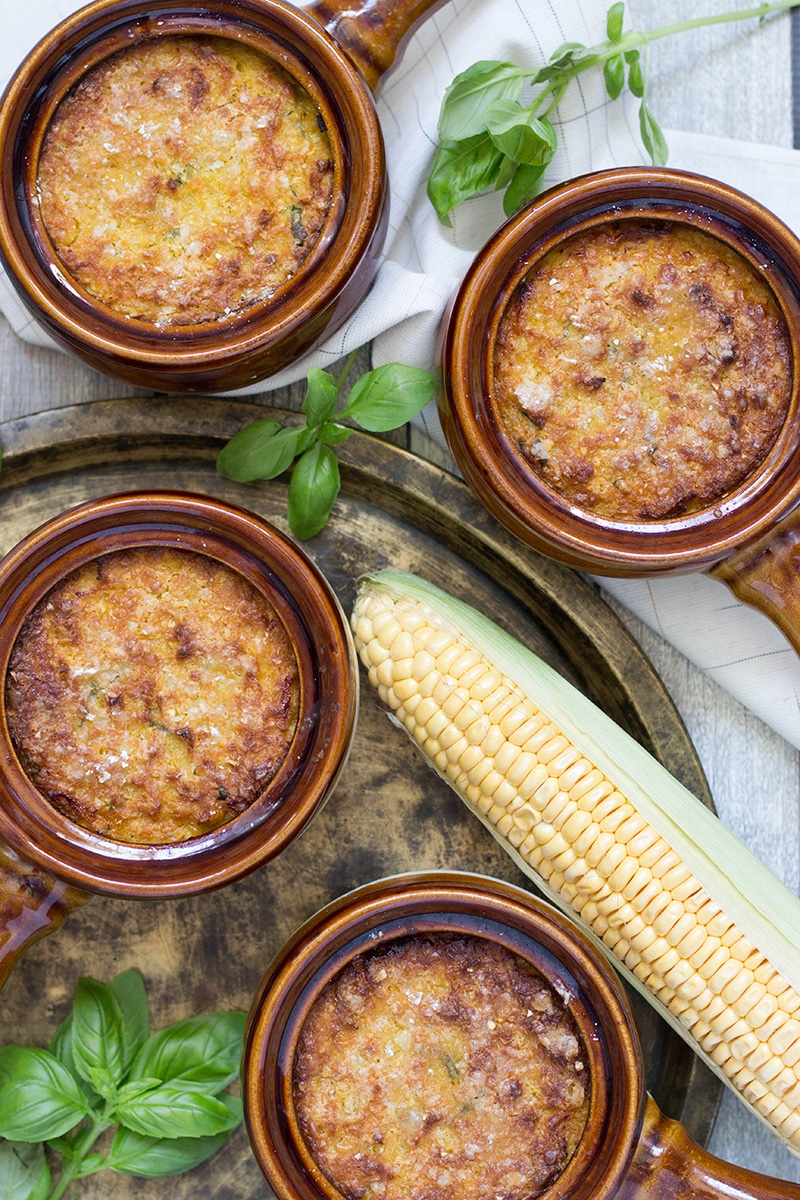 My last virtual visit to South America was a huge success. I made this Peruvian Chicken and you, my dear readers, liked it a lot. What's not to like about the tender, juicy chicken slathered with a green, aromatic chile and cilantro sauce? This time we are heading to another South American country - Chile. The country which is known for its wine, great soccer team, and gorgeous landscapes. Of course this country offers much more, but these were the things that immediately popped to my mind.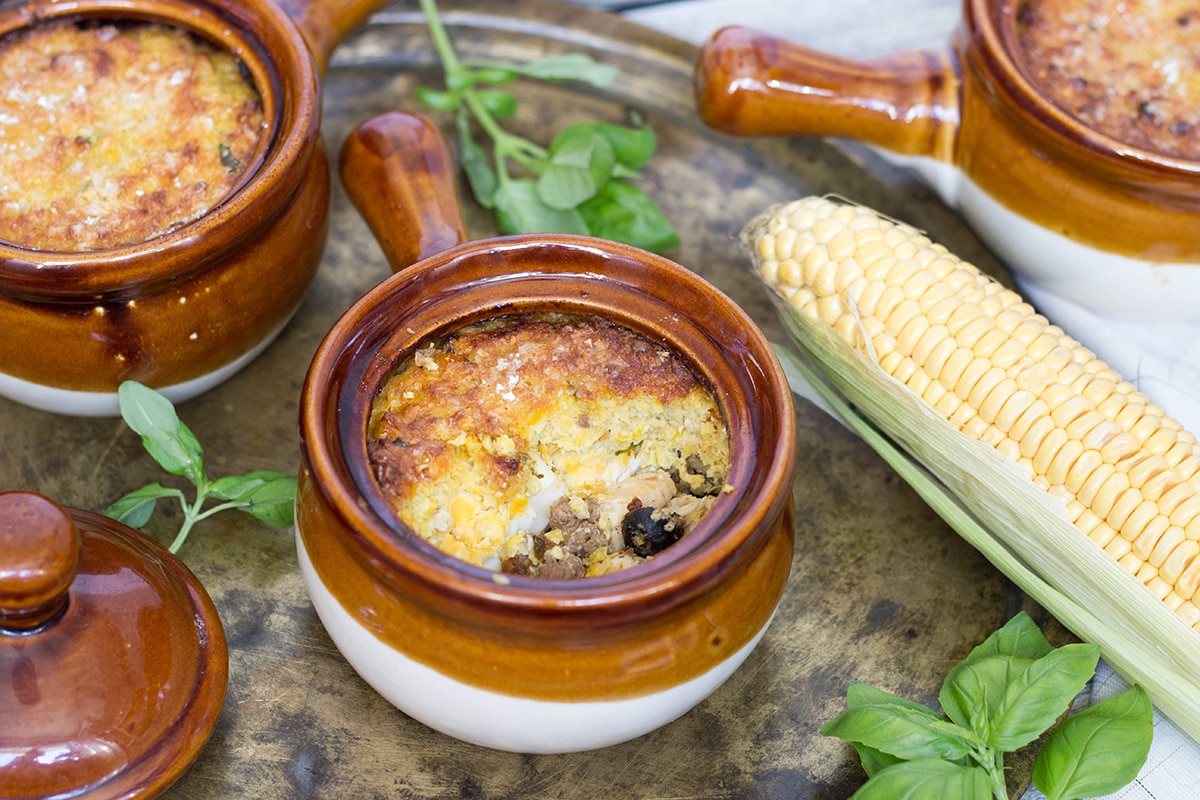 The dish I made today is not strictly Chilean. It's also popular in Argentina, Bolivia, and Peru, but from what I found out, Chile is the country where it is the most popular in. D'oh, I still haven't told you what's the dish I'm talking about! The name is Pastel de Choclo. Choclo is corn in Spanish, and pastel means pie. It's like a corn pie stuffed with ground beef, chicken, raisins, basil, olives, boiled eggs, and other goodness. Sounds good, doesn't it?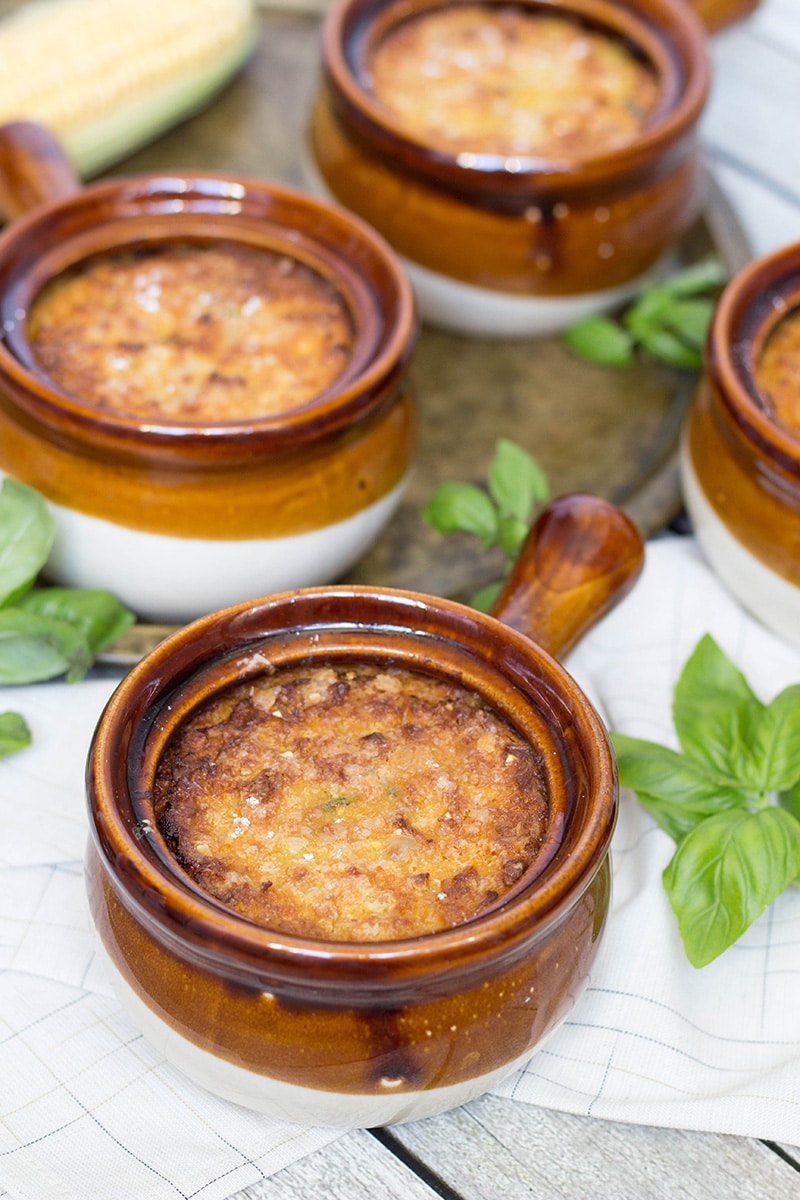 It's not actually stuffed. Pastel de Choclo has no bottom. The bottom is the beef and chicken filling with all the veggies, which is topped with the hard boiled eggs, and then with the corn paste. It would even be more correct to call it beef, chicken, and corn casserole than a pie. I think that it doesn't matter how you call this Chilean dish, the most important thing is that it's crazy delicious!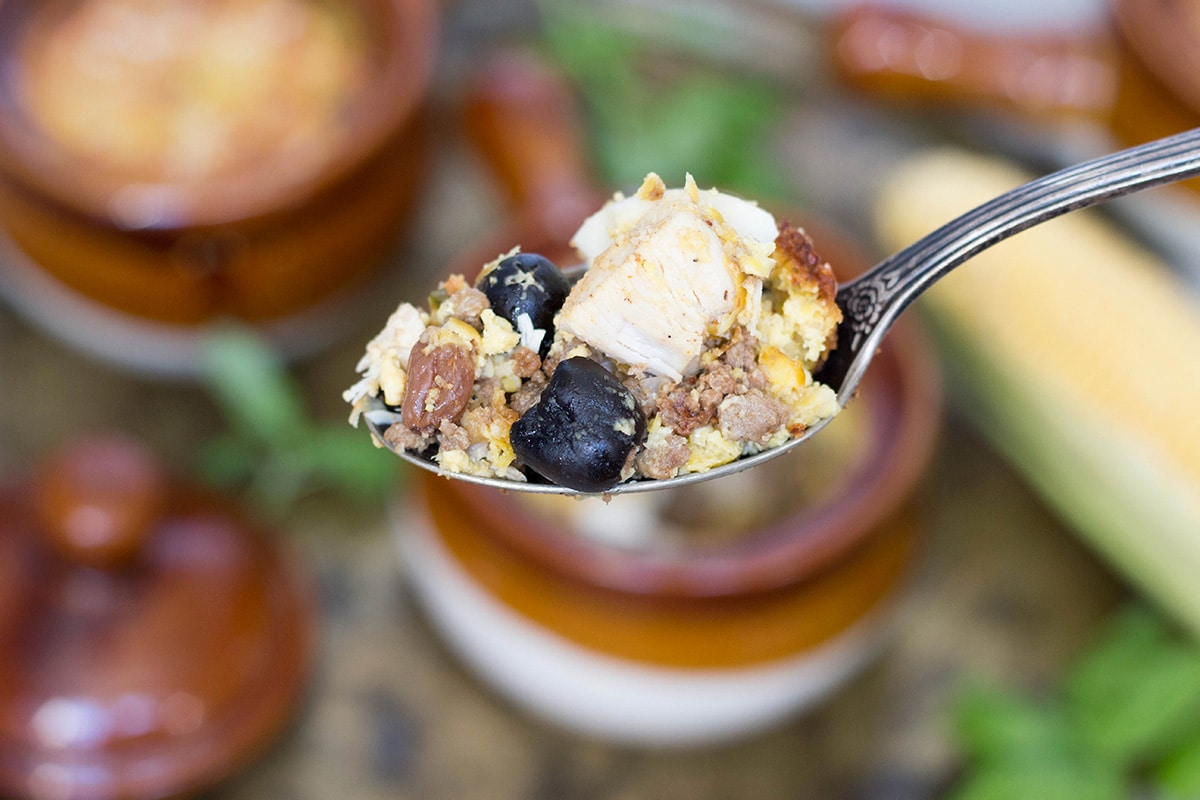 Pastel de Choclo is traditionally cooked in a special clay dish. I didn't have it, but I found some clay dishes my mom gave me numerous years ago. If you don't have such dishes at home, don't worry, you can use a simple casserole.
The taste of this corn pie reminded me the Moroccan Chicken Pie (Pastilla) I made not such a long time ago. They both contain meat and yet both have that sweet taste. Moroccan pie from a cinnamon inside, this Chilean pie from raisins inside and confectioners' sugar on top. Such a unique flavor, and I like it a lot!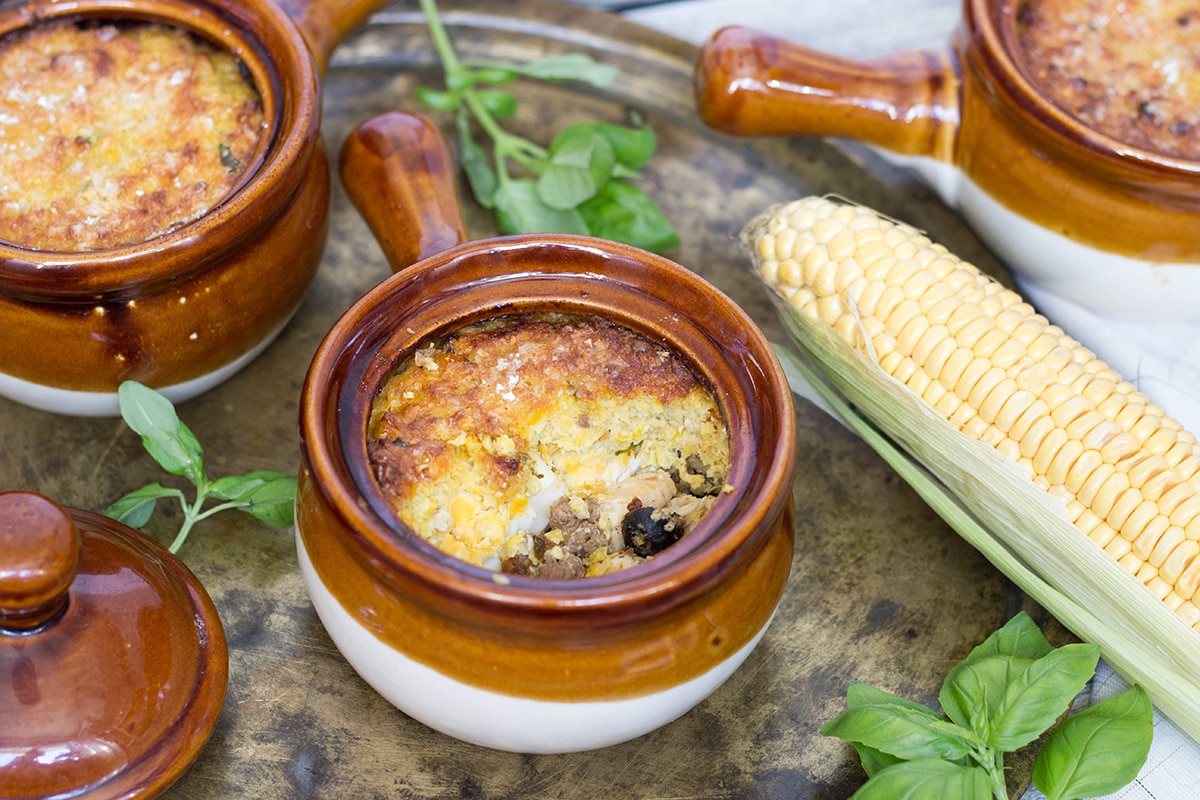 Pastel De Choclo - Chilean Corn Pie
This comforting and filling South American pie or casserole is packed with chicken, beef, olives, eggs, and topped with a fantastic corn paste!

Ingredients
3 ½

cups

fresh or defrosted corn kernels

4

tablespoons

butter

¼

cup

milk

2

eggs

8

basil leaves

, thinly sliced

2

tablespoons

vegetable oil

, divided

1

lb (450g)

boneless, skinless chicken breasts

, cubed

salt and pepper

, to taste

1

lb (450g)

lean ground beef

2

onions

, chopped

3

cloves

garlic

, minced

2

teaspoons

paprika

1

teaspoon

ground cumin

1

teaspoon

salt

½

teaspoon

ground black pepper

¼

cup

raisins

12

black olives

2

hard-boiled eggs

, quartered

¼

cup

confectioners' sugar
Instructions
Process corn kernels in a food processor.

In a saucepan, heat butter and milk. Add the corn and cook until mixture boils and thickens, about 5 minutes. Remove from heat.

In a bowl, whisk the eggs. Add few tablespoons of the warm liquid into the eggs while whisking. Add the egg mixture to the corn mixture and stir. Add the basil leaves. Stir for about 5 minutes, until thickened. Set aside.

Season the chicken with salt and pepper. Heat 1 tablespoon oil in a skillet and cook the chicken over medium heat until cooked through and browned, for about 15 minutes. Set aside.

In the same skillet, heat 1 more tablespoon oil. Add the ground beef and cook until browned. Add the onions and cook until translucent. Add the garlic, paprika, cumin, salt, pepper, raisins, and olives, and cook for about 5 minutes more.

Preheat the oven to 350°F (175°C). Place the cooked beef in a 3-quart casserole (or in any other dish) and press the chicken in it. Spread the hard-boiled eggs. Top with the corn mixture to seal the edges. Sprinkle the confectioners' sugar on top and bake for 30-40 minutes, until golden brown. Enjoy!
Nutrition