Fill the kitchen with irresistible exotic aromas - chicken kofta cooked in rich and creamy yogurt, cream, and almond korma sauce is full of flavor! These Indian meatballs are great served over rice or with naan bread.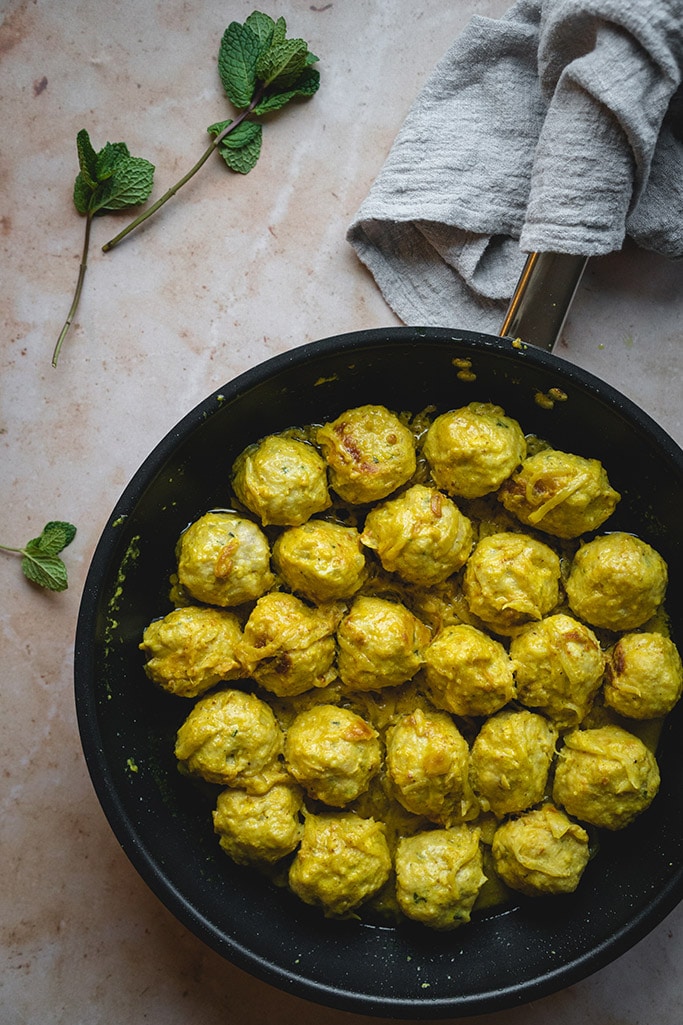 I've really been into Indian food recently. The flavors and spices are so rich and warming – definitely perfect for eating in winter. Indian has been on our menu at least once a week in the last couple of months. My favorites are butter chicken, tikka masala, and aloo gobi, with lots of naan on the side.
And I've been enjoying learning how to make the dishes myself, not just relying on restaurants. So far I've made chicken biryani, homemade naan bread, and Indian carrot pudding. All were a huge success.
It is also great to make your own Indian food because then you can control the spice level. While I love the aromatics of Indian food, I'm not a fan of overly spicy things. Making my own is perfect because I get to emphasize all those flavorful spices and limit the number of chilis.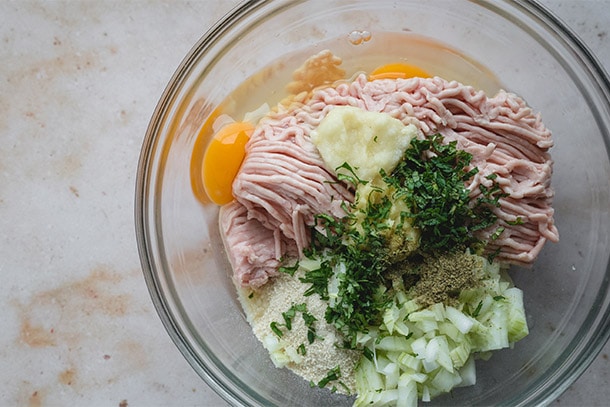 Indian food can look very complicated when you first glance at a recipe, but once you have the spices in your cupboard it is quite easy to create any number of dishes. And the dishes don't take nearly as long to simmer as you would expect.
In western cuisines we expect rich flavors to come from long cook times, but the spices in Indian food are so pungent that it only takes a short while to infuse them into a meal.
What is kofta korma?
Koftas refer to meatballs of any sort: mutton, goat, chicken, or even the vegetarian version with paneer cheese and vegetables. In my house, we have a strong preference for chicken, so I went with that version. Quite often koftas are fried, but I really like this version which is poached, leaving them with a melt-in-the-mouth texture. And so much easier than deep-frying!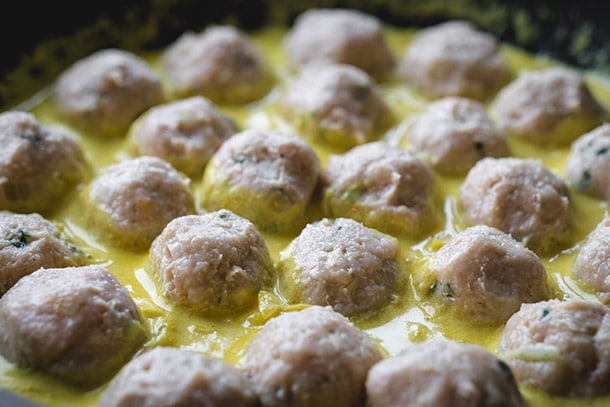 Korma is a creamy and aromatic curry gravy often containing nuts and fruit along with the meat and/or vegetables. The base for korma varies greatly with region. This recipe with cream and yogurt is most familiar to the northern states of India. In the southern portion of India, the creaminess often comes from coconut milk and they incorporate a lot more spice (which is too much for me!).
Where to find Indian ingredients
The ingredients for Indian dishes may look intimidating, but they are really quite easy.
Garlic paste. In Indian cuisine, it's usually used to thicken sauces instead of flour or starch as we do. The flavor you get from it is more subtle than chopped or crushed garlic. If you can't find one in your local grocery stores, just like me, it can easily be made at home. All you need is a food processor and some garlic. Just process garlic in a food processor with some water and voila!
Ginger paste. The same as garlic paste. Just peel and chop ginger root and throw it in a food processor with some water. A few seconds and you have an authentic Indian ingredient ready.
You can find more detailed instructions with exact amounts for both pastes in the recipe card under the notes section.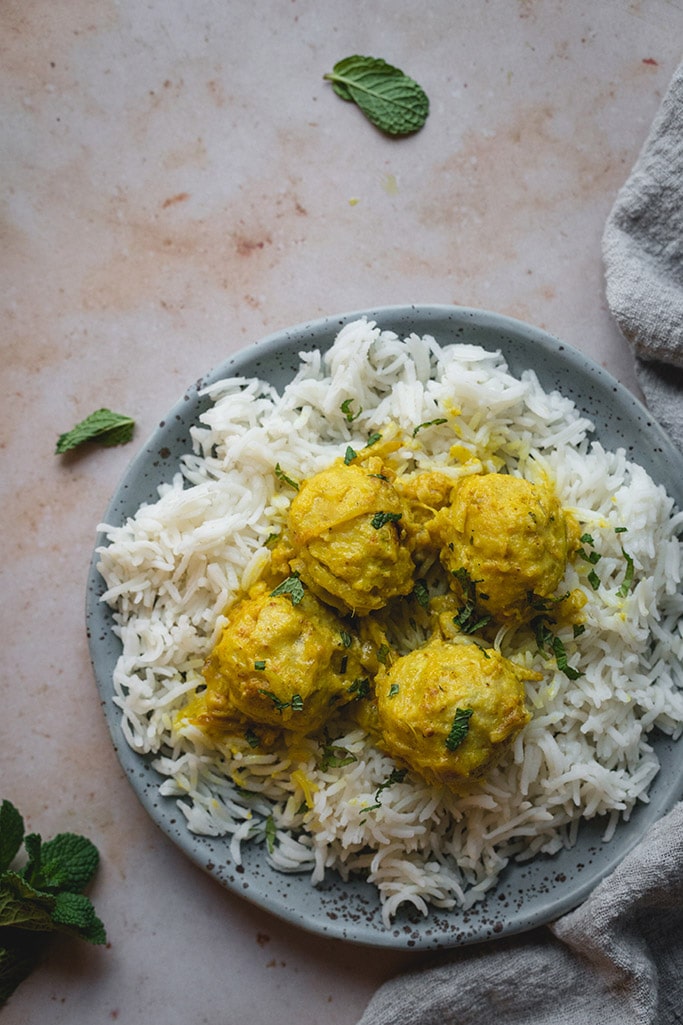 Ghee is also a common ingredient in Indian cuisine. It is also known as clarified butter. It's quite popular so I usually find it really easily in local supermarkets.
If it's not available where you live, there are recipes out there to make your own from standard salted butter. Once you have made it, the ghee stores well in the fridge for later use.
Alternatively, you can use an equal amount of salted butter, but the flavor of the korma isn't quite as rich.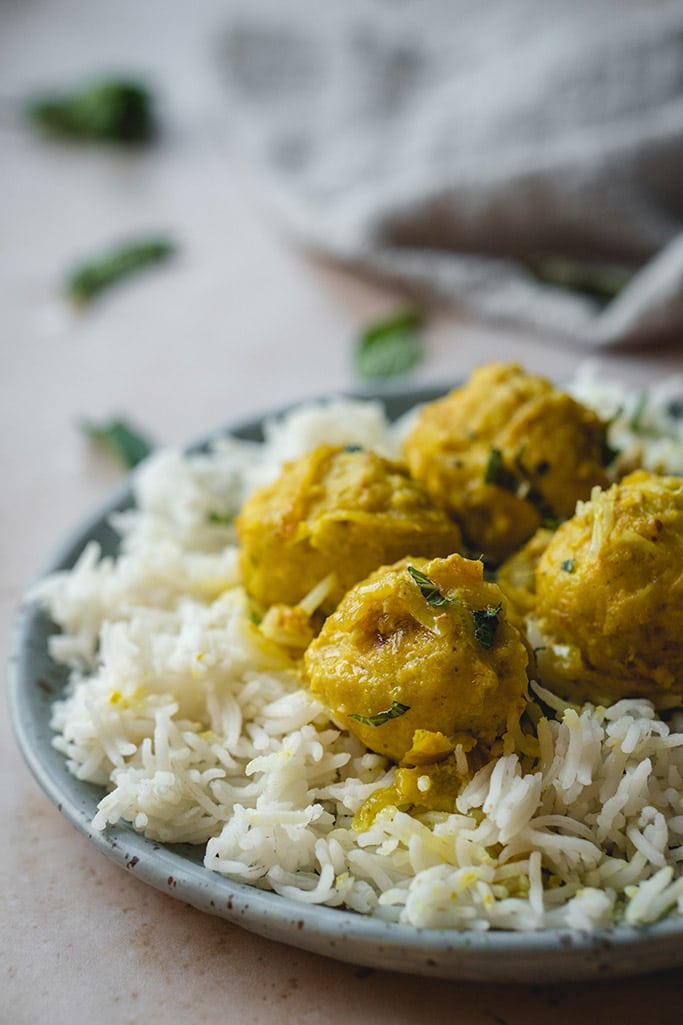 You can serve these Indian chicken meatballs over rice or with one of the Indian flatbreads: Naan, Paratha, or Chapati (Roti).
It's difficult to find these breads for purchasing in my town so this time I went with rice. Next time, though, I'll definitely make some of my homemade naan to serve with this mouthwatering chicken kofta.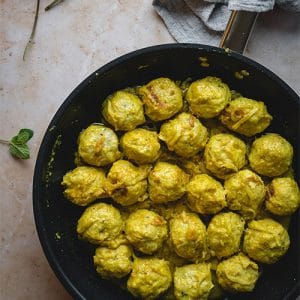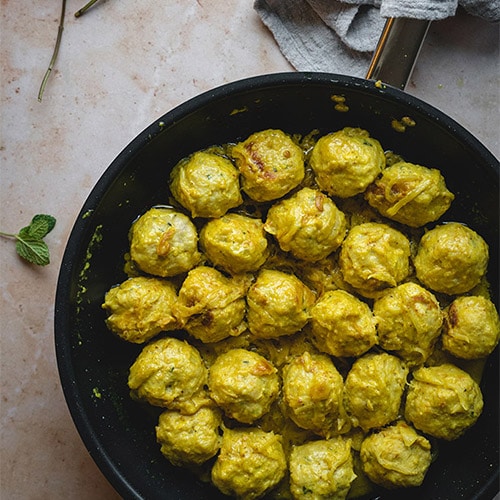 Chicken Kofta Korma (Indian Meatballs in Creamy Sauce)
This chicken kofta is cooked in a flavorful rich & creamy sauce (korma) made from yogurt, cream, and almonds. The meatballs are delicate, tender, and melt-in-your-mouth!
Ingredients
For the koftas (meatballs):
1

lb (450g)

ground chicken

1

onion

, chopped

1

tbsp

ginger paste

1

tbsp

garlic paste

1

cup (80g)

breadcrumbs

2

eggs

½

tsp

salt

1

tsp

fresh cilantro

, chopped

1

tsp

mint leaves

, chopped

½

tsp

ground cardamom

½

tsp

ground nutmeg
For the korma sauce:
2

oz. (60g)

ghee

2

large

onions

, sliced

1

whole

dried red chili pepper

1

tbsp

ginger paste

1

tsp

garlic paste

1

tsp

turmeric

1

tsp

ground coriander

¼

cup (60g)

plain yogurt

½

cup

light cream

½

tsp

salt

1

tbsp

ground almonds
Instructions
In a large bowl, combine together the ground chicken, onion, ginger paste, garlic paste, breadcrumbs, eggs, salt, cilantro, mint, cardamom, and nutmeg. With wet hands, form meatballs, about 1 ¼ inch (3cm) in size. Set aside.

In a large skillet or saucepan, heat the ghee. Add the onion and chili pepper and saute for about 5 minutes, stirring occasionally, until the onion is golden brown.

Stir in the ginger paste and garlic paste and cook 2 minutes more, stirring frequently. Add the turmeric, coriander, and yogurt and cook, stirring occasionally, 3 minutes more.

Add the cream, salt, and 1 cup water. Bring to a boil, reduce the heat to low, and simmer 10 minutes. Stir in the ground almonds and cook for 5 minutes more.

Return the meatballs to the skillet. Cover and cook 30 minutes over low heat, carefully turning them midway, to ensure all the meatballs are covered in sauce. Serve over rice or with naan, chapati (roti), or paratha.
Notes
1. Ghee can be substituted with salted butter but the final flavor of the dish will be different (not as rich).
2. How to make homemade ginger paste. Peel and chop 3 ½ oz (100g) ginger and process in a food processor with ½ cup water until you get a smooth paste.
3. How to make homemade garlic paste. Peel and chop 3 ½ oz (100g) garlic and process with ½ cup water in a food processor.
You can store both pastes in an airtight container in the refrigerator for up to 2 weeks. You can also divide them up in an ice cube tray and freeze for future use. Once they are frozen, just pop the blocks out and transfer to an air-tight container.
4. Recipe adapted from: "Spice Kitchen" by Ragini Dey.
Nutrition
Calories:
515
kcal
Carbohydrates:
35
g
Protein:
36.3
g
Fat:
25.2
g
Cholesterol:
225.2
mg
Sodium:
936.2
mg
Sugar:
9.7
g
Vitamin A:
13
IU
Vitamin C:
16
mg
Nutrition Facts
Chicken Kofta Korma (Indian Meatballs in Creamy Sauce)
Amount Per Serving
Calories 515
Calories from Fat 227
% Daily Value*
Fat 25.2g39%
Cholesterol 225.2mg75%
Sodium 936.2mg41%
Carbohydrates 35g12%
Protein 36.3g73%
Vitamin A 13IU0%
Vitamin C 16mg19%
* Percent Daily Values are based on a 2000 calorie diet.