These Moroccan Walnut Cookies (Ghriba) are chewy, nutty, and highly addictive. Ready in less than 25 minutes, they are perfect with a cup of tea or coffee!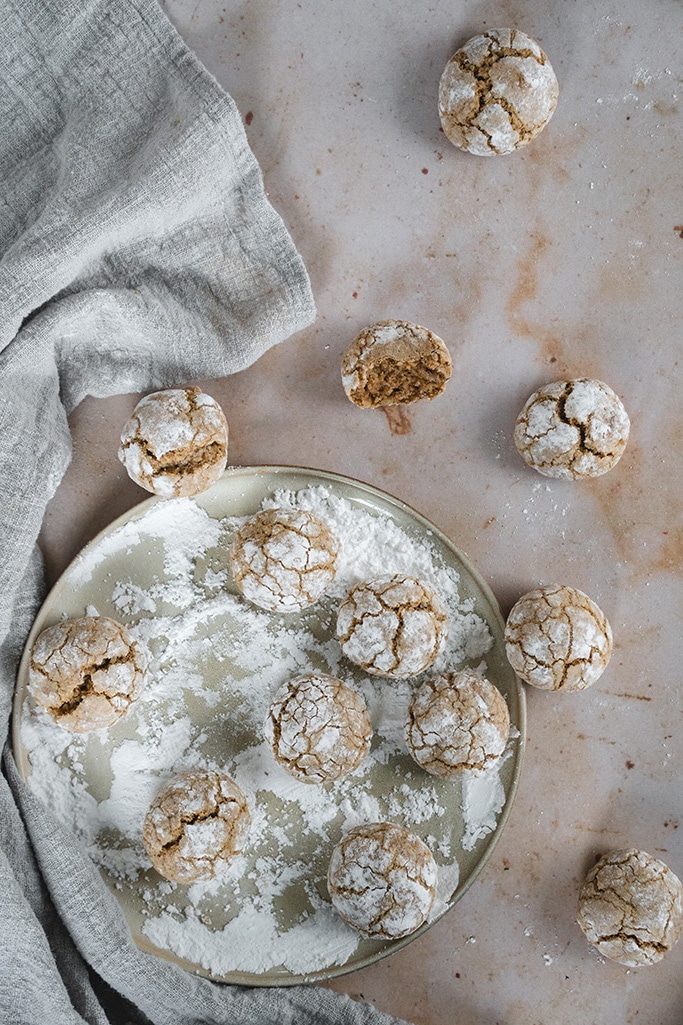 Mediterranean countries love their nut-based treats: amoretti, kataifi, Greek butter cookies, and almost every country has their variation on baklava. My newest addition to my nutty dessert recipe adventures is Moroccan cookies or ghriba (sometimes also called as ghoriba).
Ghriba is the Moroccan variant of a nutty cookie popular throughout northern Africa and most Arabic countries. These cookies can be made with almonds, sesame seeds, or walnuts, like in this case.
I adapted my version of this classic recipe from Morocco: A Culinary Journey by Jeff Koehler. Because of all the earthy and nutty flavors, he suggests serving them with spiced orange slices for a bright citrus kick. Citrus palate cleansers with some form of nut accompaniment are traditional closing dishes for big Moroccan meals.
Celebrate with a Moroccan Feast
With the addition of these cookies, there are now enough Moroccan recipes on the blog to serve a multi-course feast! Start with snacking on some fragrant chicken pastilla, move on to Moroccan harira soup, serve chicken tagine (with homemade preserved lemons) with khobz bread for the main dish, and of course finish with these Moroccan walnut cookies - accompanied by Moroccan mint tea or spiced coffee for best effect! An amazing celebration meal that might make you the most requested host in the neighborhood.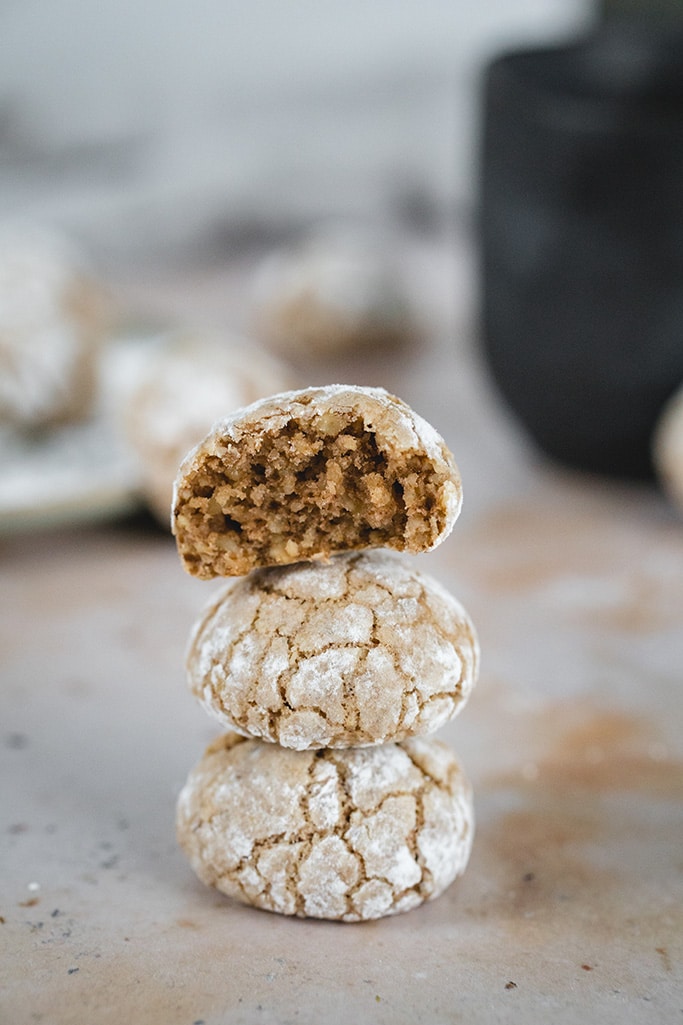 I am really looking forward to the kids getting older so that we can travel more. Morocco is definitely at the top of my travel bucket list. I love the spices and wonderfully aromatic flavors that are in every dish. I can't wait to go explore a souk in Marrakech!
In the meantime, a feast of traditional Moroccan foods will just have to keep my palate content. And no Mediterranean feast is complete without a nutty cookie.
How to Make Moroccan Walnut Cookies
First things first, grind your walnuts in a food processor. They should be ground fairly finely since they are the majority of the dry ingredients in the mix. Set those aside.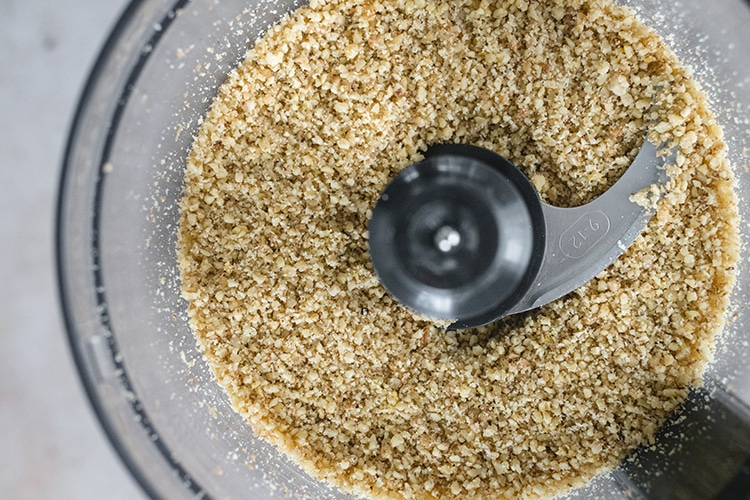 In a large bowl, beat the egg, softened butter, sugar, and cinnamon until smooth and well blended.
Combine the flour and baking powder and stir into the egg mixture.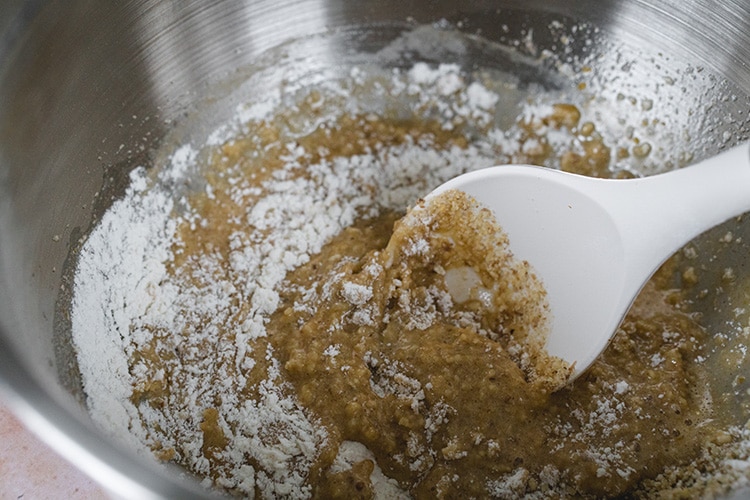 Stir in the ground walnuts until completely incorporated and malleable dough forms. Cool the fridge for at least 30 minutes or until completely cold.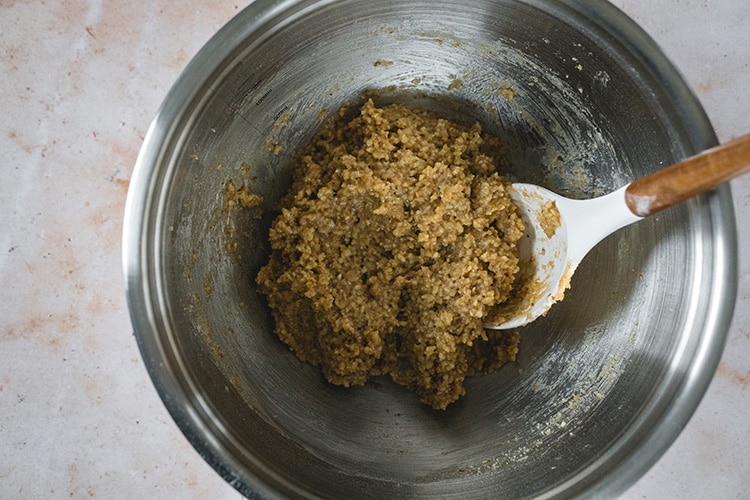 Sift the powdered sugar into a small bowl. Form the chilled dough into 1"/2.5cm balls by rolling gently between your palms.
Roll each ball in powdered sugar before placing them on a parchment-lined baking sheet at least 1"/2.5cm apart (they will spread some).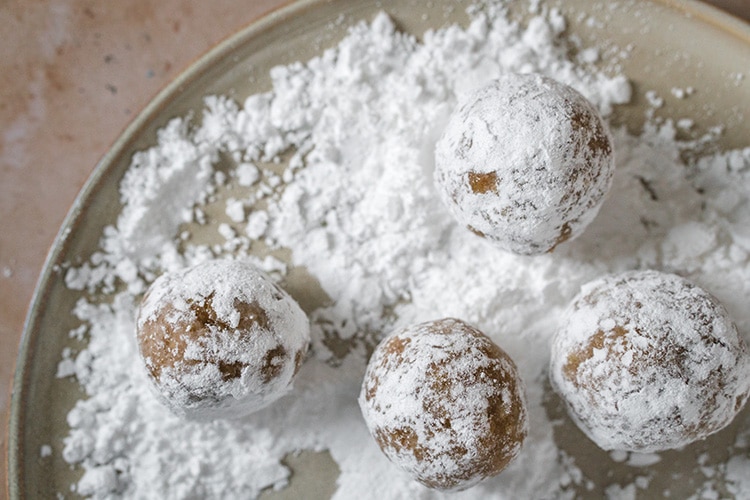 In an oven preheated to 350° F/180C, bake for 4 minutes before rotating the baking sheet. Because of the high nut content, they are prone to becoming excessively toasted. Rotating the baking sheet keeps the cookies baking evenly. Bake for another 3-5 minutes.
The finished cookies will be firm on the edges and soft in the center with a crackle pattern where they have spread. If the coating seems too light for your taste you can always dust them with extra powdered sugar once cool.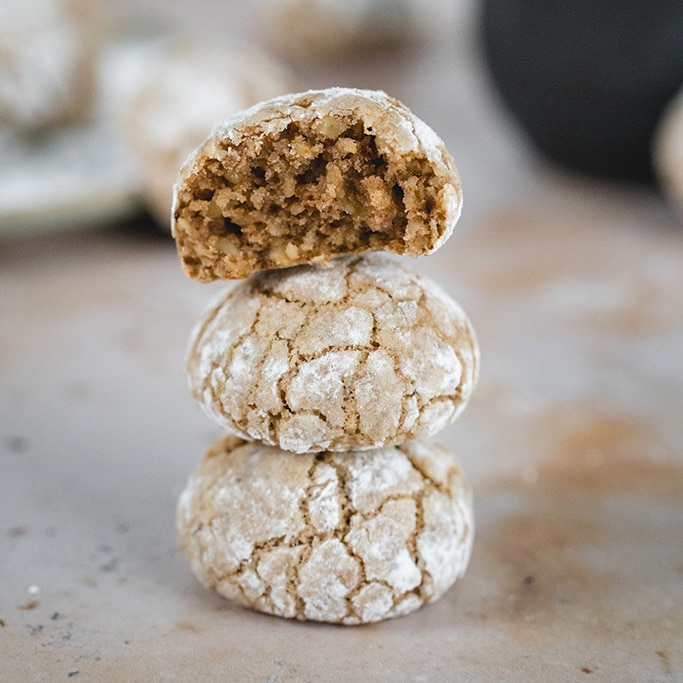 Moroccan Walnut Cookies - Ghriba
This walnut version of the popular Moroccan cookies has a chewy texture and a delicious nutty flavor. Ideal with a cup of tea or coffee!
Ingredients
2 ¼

cups (225g)

walnuts

1

large

egg

½

tbsp

butter

, softened

¼

cup (50g)

sugar

1

pinch

ground cinnamon

3

tbsp

all-purpose flour

1

tsp

baking powder

powdered sugar

, for dredging and dusting
Instructions
Preheat the oven to 350°F (175°C). Line a baking sheet with parchment paper.

Pulse the walnuts in a food processor until ground into small pieces.

In a large bowl, beat the egg and butter using a hand mixer until smooth. Blend in the sugar and cinnamon.

In a small bowl, combine together the all-purpose flour and baking powder. Mix the dry ingredients into the wet. Add the ground walnuts and mix until you get a smooth dough. Cover and let chill in the refrigerator for half an hour.

Roll the dough into 1-inch (2.5cm) balls and then roll each one in powdered sugar. Arrange on the baking sheet, leaving about 1 inch (2.5 cm) between them.

Bake for 4 minutes, then rotate the sheet. Bake for 3-5 minutes more until golden and firm at the edges and cracked on the surface. The center of the cookies should still be soft.

Let cool and dust with some extra powdered sugar before serving, if needed.
Nutrition
Calories:
89
kcal
Carbohydrates:
4.6
g
Protein:
2
g
Fat:
7.6
g
Cholesterol:
8.4
mg
Sodium:
3.6
mg
Sugar:
2.4
g
Nutrition Facts
Moroccan Walnut Cookies - Ghriba
Amount Per Serving
Calories 89
Calories from Fat 68
% Daily Value*
Fat 7.6g12%
Cholesterol 8.4mg3%
Sodium 3.6mg0%
Carbohydrates 4.6g2%
Protein 2g4%
* Percent Daily Values are based on a 2000 calorie diet.